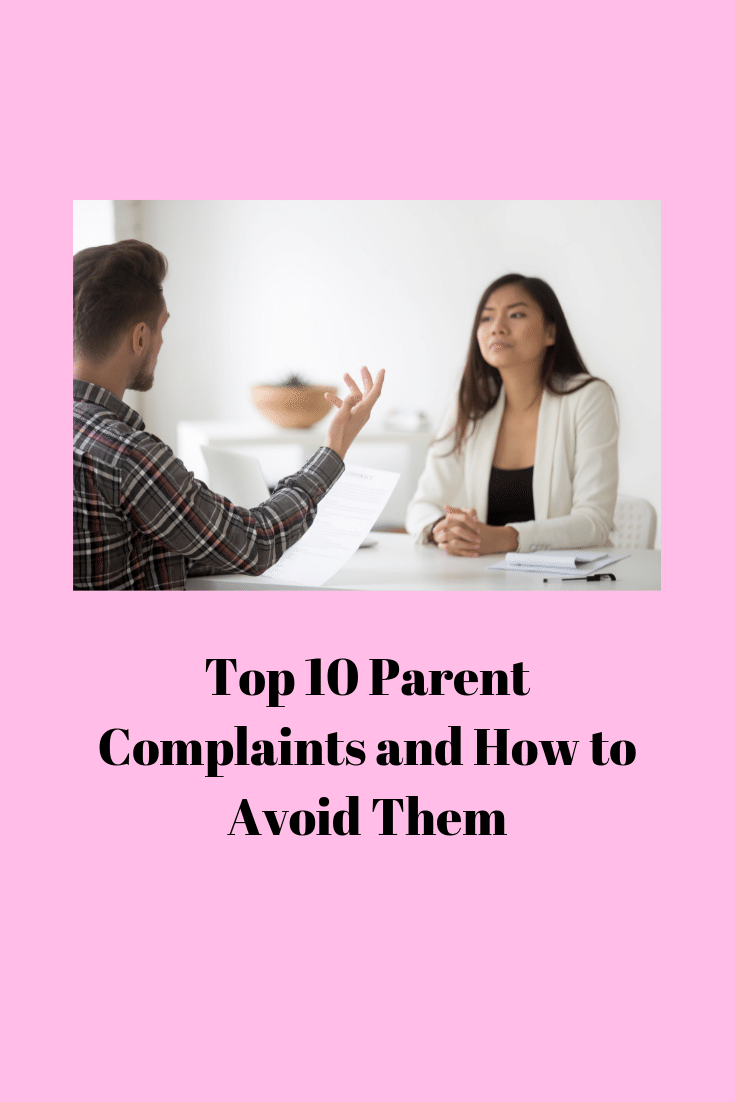 10 Most Common Parent Complaints and How to Avoid Them
Sudden closures/delays of opening- it is never convenient for the parent or the school when you must suddenly close. As a Regional Manager and a Director, deciding to close a school for severe weather, the city accidentally turning off our water or a power outage were some of the most stressful moments I remember. My best advice is to make sure you have this possibility and the procedures surrounding it in your parent handbook. During parent orientation, let the parents know, this happening is a possibility- though a rare one, it is out of everyone's control and make sure they know how the closure will be communicated. Also, make sure your policy includes payment expectations during this time. Are parents still paying even when you're closed for the day? Most likely the answer is yes but what if you had to close for the entire week? Are they paying full tuition, a discounted rate? Being proactive and coming up with all the worst-case scenarios surrounding closures ahead of time can help you when mother nature forces you to close.
Ease of drop-off and pick-up routine- The first and last 90 minutes of the day are the most critical when it comes to customer service experiences. Do parents know where to drop their child off if they arrive before their child's classroom is open? Do they know where to find them in the afternoon if they aren't in their room? How you communicate if classrooms are combined, they are on the playground, or in the gym are critically important to parents that are trying to get to work on time or leave with their children to continue after school activities or go home and start dinner. When parents must walk the entire center looking for their child or go to several rooms only to be told they are actually on the playground can easily become frustrated and their prospective will be that things are chaotic and mismanaged.
Curriculum Concerns- "But when will they write their name?" "Why aren't they reading?" "My child already knows all of their shapes and colors they just barely turned 2, does this mean they will be board in the 2-year-old classroom?" No matter what curriculum your center uses, curriculum questions are always popping up. Sharing evidence of learning with parents on a routine basis will help to ease some of the curriculum concerns. It is one thing for a parent to see a finished piece of art work, a paper with their child's scribbles on it or a huge tower their child built out of popsicle sticks and blocks but if they don't understand the WHAT (skills they are learning) and the WHY (it is important) they won't connect that they are learning different skill sets and concepts through all activities throughout their day.
Supervision/Ratios- "My child was bit again today; the teacher isn't watching them." "If you have 10 toddlers in this classroom and 2 teachers how can the teachers care for everyone?" "There are too many children in this room, it is chaotic and crazy!" The reality is sometimes the statements above are true. Especially, again, early in the morning and late in the afternoon. I also recommend adding into your parent handbook state ratios and what your classroom ratios are, in many states this must also be posted in the classroom. Making sure activities are planned during drop off and pick up time will help parents feel at ease and the rooms will be calmer and children will be more excited to join their class and start their day.
Billing/Payment Related Issues- You are trusted with the two things that are most important to people, their child and their money. When things go wrong with either of these, logic is low and emotions quickly escalate. If you haven't read my blog post on collection tuition check it out HERE. You must start from day one setting the expectations surrounding billings and payments. The first time you allow a family to not pay on time, don't charge a late fee, or allow them an extra week of vacation is the same day you should just throw away your entire handbook because now none of your policies matter. Going over payment policies and setting these expectations during orientation and at least one other time annually (when a child moves up is my suggestion) is a great way to remind families about when billing occurs, how tuition can be paid, what holidays they pay for and how much vacation time they get. Don't let billing and payments overtake your life, set families up on automatic payments and don't allow any exceptions. You can also check out my blog post on the financial literacy of your center HERE.
Transitions to New Classrooms- There are normally two issues surrounding classroom transitions. First, how often are you moving children? My best advice is the answer should be as little as possible. If children are moving to new classrooms every 6 months, it might be time to evaluate your program. There is a lot of research linked to the importance of continuity of care. I've operated schools where the children moved annually, AND the lead teacher moved with them. So, when I hired teachers, they understood they would be with the same group of children for 2-3 years. I know this concept doesn't work everywhere but when it does work it is magic. I have a future blog post coming out soon about this concept so stay tuned! It takes a long time for a child to feel comfortable with their environment. Parents may feel their child is constantly being moved, or they are worried their child won't have the same connection with the new teacher as they do with their current teacher. When it is time to move a child to a new room, it is all about how it is communicated. Are you meeting with the family to let them know when the transition will take place, what the curriculum in the new class covers, and any changes to their child's daily schedule? If not, I would start doing this sooner than later. The second issue around transitions is the parent requests their child moves up. Often this is because they think their child is bored or they are advanced, or all their friends moved up and they didn't. You can curve some of these requests by the beginning of the year parent orientation and letting them know how long you estimate they will be in this class. If their child starts at your school August 15 and they are 3, you would let the parents know they will be in the 3-year-old program until the following August, when they will move to the 4-year-old program.
Bullying, Biting, & Injuries- How often are you sending home accident/incident reports? I like to keep each report in a folder for the month based on where the accident/incident happened. Every Friday I pulled the folders and looked at which rooms or parts of the building had the most accidents/incidents. Often this is a good indicator on a room that needs another set of hands during a certain part of the day, a classroom I needed to observe or more teacher coaching on how to work with a large group of children during transitions. If you have a child that is biting or hitting friends, start tracking when did the incident occur, who was the caregiver in the room, what were they doing, how did they react to the incident, what was the child doing, who did they hurt, and where in the classroom did the incident happen. Often just by looking at these facts, you can develop a plan for being proactive instead of reacting to the incident after it occurs.
Teacher Turnover- "But we loved Ms. Sara, where did she go?" This is a difficult topic and one that we will cover in more depth in future posts. Turnover is a fact of life, it is going to happen. During a tour and during the parent onboarding process it is important that you set this expectation. It is ok to be honest and let families know that child care is a service-based industry and like all service- based industries there will be turnover. It is also important to share with them your retention rates "typically we have 30% turnover each year but 7 of our teachers have been here since we opened." Letting families know a little about what your hiring process looks like may also be helpful. Assuring them that your program is solid and when we do have changes, we have proven training methods in place to get new staff onboarded effectively, so they can start caring for their child. Also, many times parent expect turnover, they get it. They are more upset when there has been a teacher change, and no one told them about it. This sets up the new teacher for failure because he/she will start off in a room full of grumpy parents because they are still fuming that the Director didn't inform them about Ms. Sara's departure. Having templates ready to help you communicate when a staff member is leaving will help to ensure everyone is informed in a timely manner.
Menu/Food Quality or Quantity- This is becoming one of the most frequent parent concerns I am seeing. If your school provides food, make sure that you have clear policies surrounding food allergies and food preferences. Allergies you must accommodate of course but the parents need a note signed by the doctor with the doctor explaining the food the child is restricted from, symptoms the child has when they have an allergic reaction to the food and what the treatment plan is for this allergy. I would not let any child with allergies start in your center until you have this information. Food preferences are different, the parent would prefer they don't have this food, it might be for health or religious reasons but if they accidentally were given this food, no life-threatening reaction would occur. What polices do you have in place for food preferences? Do you allow children to bring in their own food, do you provide a substitution? What you do for one, you need to be ready to do for all so make sure you have a solid policy in place.
Communication- "You never told me that!" No matter how many ways you communicate something to families, there will always be someone that didn't get the message. My best advice is when families enroll you ask them how they like to be communicated with- is it by phone, email, text, message in a bottle? Make sure you are updating parent emails, phone numbers and emergency contact information on a regular basis. And for all your communication do it in more then one way, post it on Facebook (when appropriate), send an email, a typed note, post it in the check in area at the school. Super important information should be delivered in person or by phone.