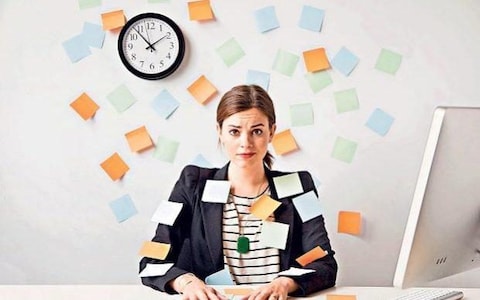 After trolling child care forums and child care Facebook groups for the past several months, speaking to providers at state and national conferences and based on my own experience there are a few basic pain points that seem to be trends for many providers. For each of these topics, I will dive more in depth in future blog posts, online webinars, Facebook lives and in person training. But for now, take a gander at this list and let me know in the comments if your biggest pain point is here and how you can cross it off this list this school year! I'm offering you some tough love on a few of the most common provider complaints and how to avoid them.
5. Staying Motivated/Avoiding Burnout- I'm a big believer that the secret sauce to staying motivated lies in your morning routine. I know this is true for me. Waking up early- even though I am not a morning person to exercise, write in my journal and plan out my day gets me going on the right path. Working a normal schedule- as much as possible. This means I set my hours and do my very best not to go into my school early or stay late. When I was a Director I scheduled myself a 1-hour lunch break every day. Every Day! I did my best to not answer calls, texts or emails when I wasn't at work. This I know can be a challenge. So, this is the perfect time of year to look at your policies. Do you tell parents you respond to emails within 24 hours, so you don't feel pressured to respond right away? Do you tell teachers they are responsible for covering their own shift when they are absent, so they aren't texting you at 4am? If not why, what is preventing you from making these things happen? We will dive more into policies like this starting in September during our monthly coaching calls. If you aren't part of our coaching community, email me at [email protected] and I can send you an application today! Finally, take a vacation. Even if you aren't going anywhere, take time off for you and your family. I like to take time off each quarter, so I will work hard and go all in for 90 days and then take time off, rinse and repeat. This schedule doesn't work for everyone, but it works for me, what does your vacation schedule look like? If you don't know it is something to think about before the new school year starts!
4. Payment Issues/ Late Payment Fees/Vacation Policies/Discounts- This topic drives be insane, you are not doing this for a hobby, you are operating a business and should be paid. We are one of the only industries I see trying to constantly give things away for free- vacation weeks, sibling discounts, waiving registration fees. I think as an industry when we understand our value and what we are worth, we will stop giving away so much in discounts. If you didn't offer families vacation weeks this year what would you save? What raises would you be able to give to the teachers? How would this help with overall quality? You must give a free week because school's in your area do. What does their teacher attrition look like? Have you had conversations with them about everyone rebooting policies to better serve more children and retain teachers? Why not? Be brave and start a new trend in ECE. Review our previous posts here on how to get paid on time, every time. No One Told Me I Would be a Collection Agent and How Financially Healthy is Your Center?
3. Parents Not following Your Policies- The moment a parent doesn't follow a policy, you might as well throw out your entire handbook. If you have a policy and you are not enforcing it, clearly you don't need that policy, right? The second you allow one to break a rule, you must now allow everyone to do the same. Take time to look at your policies, is it a federal or state requirement that you must have? Do you need this policy? Can you get rid of anything? Do you need to add something? Do you need to make a certain policy more clear or stricter? Sometimes I look at school's handbooks and think "well no wonder policies are never followed, we have hundreds of things to remember." Other times I look at one and think, "wow, so many things are missing here!" Review, Redefine, and Repeat. Review your handbook, redefine things that you don't need or no longer make sense and Repeat…. When I say repeat I mean do this once a year. Repeat also means share face to face with your parents. To help policies be followed more frequently, I would recommend doing face to face orientation annually with every family enrolled. Whether it is your illness policy, holiday policy, or late pickup policy, you need to have a conversation with parents about the "why" behind the policy and any consequences for not following the policy before it happens. If you are a home provider, I think this is even more important for you. You are inviting families into your sacred space- your home, they must understand your business hours, house rules and expectations before they are enrolled in your program.
2. Long Hours/No Planning Time- You must be able to see your business from 30,000 feet up, and if you are operating all aspects of your business every single day, you can't get that perspective. If you are the one doing everything, you will end up doing nothing well. It is a great time of year to review roles and responsibilities for your school. For each management team member, you need have a list of roles and responsibilities, what metrics will be used to measure them (what will it look like if these items are done well?) and how often are you checking in with them? If you are an in- home provider, what can you delegate and to who? Do you have a sub that can work for you at least 1 day a quarter so you can leave your school to work on your business?
1. Inadequate Staffing/Hiring Crisis- This is without a doubt, the biggest issue facing our industry today. If you don't already have it, check out my free interview guide HERE. It will give you some questions to ask every interview and some tips on effective ways to conduct the interview, before the candidate ever even arrives at your school! Be on the lookout for more guides from me in the very near future including a recruitment and retention guide!