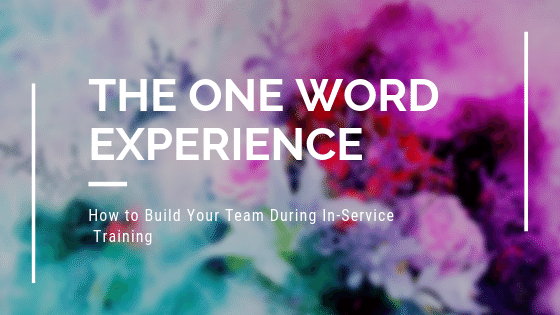 The One Word that Will Change Your School Year
Back to school teacher in-service days for early childhood professionals is a growing trend. Whether you schedule these on the weekend or close your school for the day, in-service days play an important role in prepping teachers for the new school year, staff team building and maybe the most important impact they have on schools is they often increase the teacher retention rate. There are many things that may be learned during in-service, and this blog post looks at what is possible when in-service days are built to serve the teacher instead used as just a time to review 97 different policies and regulations.
New Techniques
Teachers may be taught about new or often overlooked teaching techniques that address certain problems or trends in the classroom. Maybe you see several of your classrooms struggling with transitions, this would be an excellent time to share some next practices on how to conduct better transitions throughout the day. Or maybe you're wanting to introduce a new classroom management technique that you learned at a conference and ask everyone to try it as the school year begins. Even better, what techniques have your teachers learned that are working in their room that they could share? The more you get your team involved in the day, the better the engagement and outcomes will be!
Better Together
Team building is an important part of every in-service day. There should be activities planned for teacher in-service that help the teachers get to know each other, no matter how long they've worked together. This will not only make new teachers feel welcome and included, but it will help build retention overall and add excitement for the new year. It is also a proven fact that children that are in an environment where teachers get along and work well together, learn more. In environments where children as young as infants, see, hear and feel adults working well together, speaking kindly to one another and smiling, young children feel secure, build trust and in the end, learn more because they feel safe. One of my favorite team building activities is the One Word Team Building Experience. You can click HERE to view the train-the trainer tool on how to conduct this challenge with your team! This resource is 100% free, I just ask that once you complete the activity, please share a photo with us in our private Facebook Group.
Planning
Teachers are engaged in many activities that help them plan for the school year during in-service day. Whether it is going through lesson plans, planning themes, sharing special days and activities that teachers will need to be prepping for or just giving them time to work together on activities, planning time is crucial. Make sure you include time during your in-service where teachers can breakout to plan with others in their same classroom or age group.
Special Speakers
Let's be real, no matter how many times you've shared with them the importance of classroom management, how to conduct assessments or fun art project ideas, an outside speaker will always be able to come in and inspire your team. Teachers will hear a new voice and suddenly a light bulb goes off! Or maybe your guest speaker has interesting stories to share or a new approach to the same topic you've addressed a million times that will change the way they think and feel about the program and their role. They will make connections with the speaker that help them become more effective in the classroom and get them fired up for the school year. While it is fun to mix things up and have different speakers sometimes, I encourage you to find a speaker you and your team love, that can come back and do some follow-up training during monthly staff meetings or future training days. While I love face to face guest speakers the most, with so many improvements with technology, speakers like myself will sometimes do live virtual training during in-service days. This can help you cut down on cost while still bringing in some fresh ideas and content for your team. Even just 1 hour of a virtual session that is engaging and informative will reignite some passion in your team! If you need help finding resources in your area for quality early childhood training, please let me know, s[email protected]