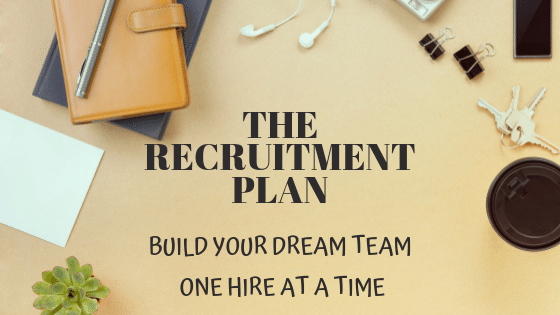 I often get asked where schools can find high quality staff members. I know right now it is a challenge to hire and retain key personnel, so I've have put together a list for you of ways you can recruit new teachers and staff members. Some of these you may already be doing but hopefully some will be new to you. No matter what you are doing, the key is to do it consistently and don't wait until you desperately need someone, my motto is ABR (always be recruiting)! Recruiting and hiring is like a diet, you can't just do it for a few days and expect results, you should be steady and constantly keep your recruiting mindset so you will be able to attract and retain teachers throughout the year, not just when you realize you need some next to start on Monday! So here are the 7 ways that we know consistently work to recruit teachers for your team!
Employee Referral Programs:
Offer an incentive to current employee and an incentive to new employee, a GOOD one that is either equal to or greater then what you give a parent that refers another family to your school. Allow employees to bring a friend to special events so they can interact with your fun team and maybe want to work there! Post an ad for your school and allow employees to share it to their social media accounts so you reach more people, take your business cards everywhere you go and give employees your cards to hand out. I can't tell you how many times I have experienced amazing customer service somewhere and gave my business card to that barista, cashier or customer service representative and later hired them!
Colleges & Universities:
Look for local career fairs in your area, a lot of these cost money so make sure it is a good fit, so you will see more of a benefit. I love to partner local CDA programs. I taught CDA for many years and I know professors love taking their class on field trips or inviting guest speakers in. Call local programs in your area and invite them to your center for a tour or ask if you can come and speak during their class. You don't need a two-hour lecture prepared, even just 15 minutes on family style dining, music in the classroom or classroom daily schedules can give you an audience that is hungry for a position when they graduate or maybe even sooner! Job boards on college and university websites are a great place to keep an ad posted throughout the year. Post flyers where college students would spend time like the library on campus of nearby coffee shop. Host a job fair at your center, you can even offer virtual job fairs where you connect with candidates via Facetime or Skype. Don't be afraid to use technology to attract new employees.
Be the Expert:

Make your center THE training hub for local ECE workers. Offer CPR & 1st Aid or host a trainer or guest speaker and invite schools in the area. Even if teachers aren't looking for a new position right away, if they come to your school and it feels like a positive place, when they are looking, they will think of you first. You can speak at chamber events, career day fairs, conferences, local ECE chapter meetings- anywhere your ideal candidate would be, you should be. Again, even just a quick 15- minute presentation on a topic can help you to become the expert. Finally, Network, Network, Network with others in your industry! So many times, in my career I've had other Directors or Regional Managers call me when they have an excellent teacher that is relocating and needing a job. I do the same for them, we not only spend time together and share next practices, but we refer fabulous workers to each other!
Coffee Talks:
Advertise that you will be at a local coffee shop from 10-12 pm (or your favorite day), to talk about opportunities at your center. Wear your name tag, buy them a coffee, have information ready to give them, get to know them. This is something you should do on a routine basis, not when you need someone asap, have a standing time when you are offering this every month, again staffing is a diet that you must keep working on! If you like the candidates that are coming to chat with you, make sure you also tell them about your referral program and if they know other great teachers that are looking that you are at the coffee shop the same time each month and give them your cards if someone needs to reach you sooner.
Social Media:
Facebook- Use your center's Facebook for recruitment. I'm talking regular posts, boosted posts and creating Facebook paid ads targeted to your ideal candidate. Create a Facebook group and invite your target audience, conduct Facebook Live Q&A about your center. Make sure you are posting about training, staff meetings, anniversaries, and staff appreciation events often in your group and on your regular page. Speaking of Facebook Groups, if you're a Director and aren't already part of our community, JOIN US HERE!
LinkedIn- Use your personal or professional company page, connect with people in your target demographic and community, join groups, post job ads and you can also add paid ads on their job network. You can also reach out to others in your network and send them personal messages letting them knowing your hiring and asking either them to apply or for them to refer others to you if they know someone that would be a good fit.
Instagram- Use your center's Instagram, add quality content and photos, your center's Instagram page should look like a beautiful magazine. Remember to use hashtags that are going to show your level of professionalism and promote your center. You can use the same career ads you are promoting on Facebook, on Instagram since they are connected.
Pinterest- Use your center's account, add quality content at least once a week, include photos, opt-ins (so you can collect their name and email) and articles. Pinterest is the last social media option I would use for recruiting. Meaning, focus on the others first and then add Pinterest in.
Online Recruiting Resources:

There are literally dozens of these, here are some of my favorites: Indeed.com (free and paid posts), Zip Recruiter (paid posts, free trial), SnagAJob.com (paid), Monster.com (paid), CareerBuilder.com (paid), Glassdoor.com (currently free), TheLadders.com (free and paid), Simplyhired.com (free and paid), Idealist (free and paid) non-profits only, Care.com (paid), Craigslist or JobSpider.com (free and paid). Just remember, using services like this can't be the only thing you do. So often I hear Director's say, "well I posted the position last week, and no one has applied." I know it is frustrating to post a position and then hear crickets chirping or get a handful of unqualified applicants, but you must post ads along with at least 2-3 of these other ideas. And remember, if you're posting a job only when you need someone, you are behind. Post on an ongoing basis.
Careers Page on Your Website:

Look at your website right now, if you do not have a careers page or it is totally blank, you're missing out on a big opportunity! Your careers page should include, testimonials from current employees, photos of your school and events, unique benefits you offer and how to get more information on positions you have posted. Remember, make it easy to get the application or to fill out an applicant interest form. No one wants to have to call a center and ask for an application, pick one up in person or email the Director to get one. They should ideally be able to complete it online or fill out a quick information box that goes to you and then once you receive it, you send them the application. I also like to have a special offer on the careers page like a free opt-in resource, free training, or a button they can "click" to join your exclusive Facebook group. Again, if they are looking at your careers page, they are interested, so find a way to capture their name and email address, just like you would if they were a parent interested in enrolling their child.