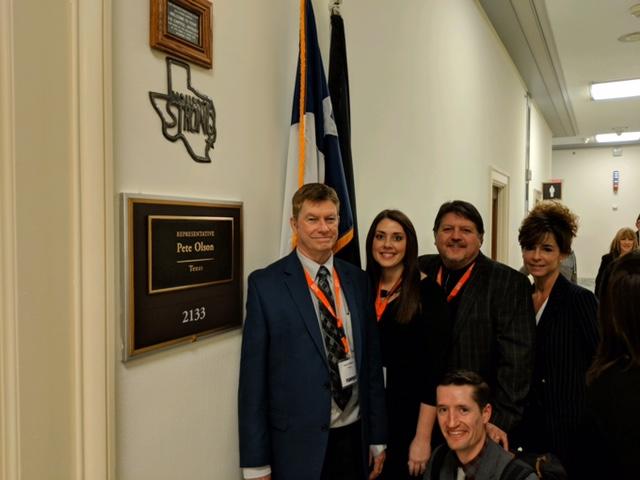 Have you ever met with your HOA to try and get rules changed about when you can have a garage sale? Or maybe you have talked to your child's school counselor to see how they can get more time to take tests or why they need to sit in the front of the classroom, so they aren't as easily distracted. You might have met with your mom's doctor and let them know all the reason's she needs a home health nurse, full time, not the part time weekend one she has been getting! Maybe you're the parent that has taken on the PTA and said NO to fundraisers- or those certain fundraiser marketing campaigns- you know the ones…your kid sales 5 rolls of wrapping paper that nobody wants, and he wins a "free" key-chain. There are a million different ways you can or have already been an advocate.
You can get involved in matters that you care about. One of the matters that I care about the most is all families, yes, I said ALL families, have access to quality child care that they can afford. By using the word afford, I don't mean that we need to make quality child care cheaper. In fact, it is already incredibly inexpensive when you think that a child is typically in care 8-10 hour a day, but we will save that for a future blog post. Whether it is changing a policy that is negatively impacting a school, voicing support for a bill that has been filed or meeting with my state legislators to express concerns over the negative impact a new policy could have for the child care business, any family, or my community I am an early childhood advocate. When I'm not advocating for high quality early childhood education for all children and families, I can be found advocating for a better mental health system that starts mental health care in the early education space and includes curriculum for both students and parent about mental health care issues in elementary-colleges and universities. And making sure that all people have access to high quality mental health care programs- this system is as broken as the child care system but again, that is another blog post.
We live in an interesting time. We are seeing a huge increase in protests, more people then ever are writing letters, making calls, and yes even sending tweets to the politicians that represent them. So, what are you doing? Yes, you!
Let me say that I am not a professional advocate, though I would love to become one, one day. My start in advocacy went something like this: I had been a Preschool Director for about 10 years, my new boss called me one day and said my colleagues and I were going to travel to Austin the following week and visit our state legislators during Pre-K Day. I enthusiastically said "awesome" and asked what to wear and when we were meeting. Then I hung up the phone and immediately googled who my Senator was, who my Representative was and what the heck Pre-K Day was…. I quickly got answers to all 3 because let's face it, Google is amazing!
The following week we drove down to Austin and met up with a group called TLCCA (Texas Licensed Child Care Association). Now, for 10 years I had a sticker in the window at my school and I think I had gone to a few of the conferences that they hosted but it wasn't until I was in a room with over 100 of their other members that I realized exactly what this organization did and why it was important. Their amazing lobbyist quickly briefed all of us on the bills that the organization was most concerned with and gave us talking points to address each. They then divided us into groups of 3-4 people, gave us a list of the representatives that we would visit that day. Our group had a list of 15 representatives. All I kept thinking was, are you serious, the lobbyist isn't going with us? They are wanting us to go and meet with these career politicians and share why we are more informed then they are on bills they have already written and proposed to the house or senate?
It took me 1 visit to realize the most important thing that I have learned during my advocacy adventure…we are the experts, not them. This means YOU are the expert on whatever issue you are most passionate about.
During my 1st visit, we were sharing with a representative (sometimes you don't really get to meet with them, a lot of time it is one of their aides but that is totally ok!) why he should vote against proposed bill that was currently in the house. We explained our thoughts on the issue, how it could negatively impact small business owners and offered some solutions on how the bill could be improved. The representative that we met with literally had no idea about any of the implications the bill would have, in fact, he said that there were so many new bills introduced, he hadn't even had time to read it yet. So, we were able to paraphrase it for him, share our thoughts and share our business cards with him, so if he had questions he could reach out to us…the experts. It was very empowering.
Our final visit of the day had the biggest impact! We were all getting tired, it has been a long day, lots of talking and walking. Side note, ladies I am a high heel loving girl, but don't you even think about wearing heels to visits at your state capitol- it is brutal! Our last visit of the day was with Lindsay, the legislative aide to Senator Kay Bailey Hutchinson. We visited with her about the bills, and how we would like to see Senator Hutchinson vote, thanked her for her time, and gave her our business cards. As we were leaving she tapped me on the arm and asked if I had a few more minutes because she wanted to get my thoughts on a bill that was just introduced that day. The bill was regarding transportation safety training for child care workers in the state of Texas. It was an important bill because there was and continues to be fatalities every year due to parents and caregivers leaving children in hot cars. The bill was asking that every child care worker take 8 hours every year of transportation safety training to try and avoid having tragic incidents like this from occurring. We took the information about the bill and most importantly I asked Lindsay if we could set a time to talk with her the following week once we had time to fully review the bill with our team. She said, we could talk again the following Tuesday. That following Tuesday, my boss, our lobbyist and myself were on the phone with Lindsay, explaining how important this bill was and how we fully supported it getting passed and made a law, but it needed some modifications. We explained that 8 hours was a lot and at that time child care workers in Texas only had to have 15 hours of training a year- currently it is 24- and if 8 hours were devoted to transportation, that only left 7 hours for all the other important topics child care workers needed training on. Over the next several months, our team met countless times, not just with Lindsay but with other representatives and senators and end in the end, the modified bill passed. Instead of 8 annual hours of transportation safety training, all parties agreed on 2 hours. It was a win-win-win. Think if we had never been there, we wouldn't have had a voice, no one would have known if we wanted 8 hours of training, or 20 or 2! This was my second biggest realization, when your representatives don't hear from you, they assume you are ok with the proposed bills. No voice=Agreement. Therefore, it is vital that everyone, knows what is going on with all the issues you are passionate about at the local, state and federal level and make your voice heard.
Once I realized this, I was hooked. I made regular visits to my representatives, both during active legislative sessions and when they were on breaks in their local offices. I picked up the phone and called my legislators on a regular basis, even if it was only leave a voicemail to let them know how I thought they should vote on a bill.I invited elected officials of all statures- to my preschool to see what high quality programming looked like. We had mayors, city council members, members of the school board and any senator or representative we could get a hold of, in our school. I encourage you to do the same thing.
This year I traveled to the NAEYC public policy forum in D.C. and met with members of congress, including Senator Ted Cruz. I hope that next year, you will meet me in D.C. it is fun, and it is filled with people just like you and I, people that are passionate, want to make a difference and refuse not to have a seat at the table when big decisions are being made that impact children and families.
No matter if it is a visit to the capitol, a letter, and email or a tweet, the important thing is that you voice your opinion.
Learn more about issues affecting children and families and contact your legislator with questions or concerns.